… And so do many of today's buyers. To provide BVD-PI Negative Cattle with additional exposure in the marketplace, Cattle Stats has formed an alliance with The Cattle Range... www.cattlerange.com.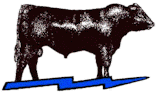 The Cattle Range 's Internet Marketing Option provides market exposure and facilitates private treaty sales without expensive commissions. Cattle Stats is the sponsor of a BVD-PI Negative section on The Cattle Range website on which BVD-PI Negative Cattle are listed for sale. In addition to being listed on the BVD-PI Negative page the cattle are also listed in the corresponding Breed and Cattle Class sections. Cattle Stats' customers receive a 20% discount on the sale fee, which is payable only if the cattle sell to a buyer originating from the website.
The Cattle Range is the premier website for Internet marketing of cattle and receives visits from 1,000's of cattlemen daily. Your BVD-PI Negative cattle, listed for sale on The Cattle Range, will be exposed to buyers who would otherwise never know they are for sale.
Not an Internet Auction… Buyers & Sellers Deal Directly.
· There is No Charge to list cattle for sale on The Cattle Range...
· Sellers pay a sale fee only if the cattle are sold to a buyer who located them on The Cattle Range.
· As the Fee Schedule shows, the sale fee is as little as $4 per head for cattle depending on the class of cattle and the number of head listed. Don't forget that Cattle Stats customers receive a 20% discount.
· Listing cattle for sale is simple and only takes a few minutes… List On-Line or call toll-free.
· Listings can remain on our website for up to 90 days. Notify us when the cattle are sold and the listing will be removed.
· Listings include fairly detailed information about the cattle, color photos, and how to contact the seller.
· Photos can be added and changes made to the listing at any time. Just give us a call or send an e-mail.
· If not ready to price the cattle, list price as "Negotiable" or "Contact seller for current price quote", etc.
· It is not necessary to have knowledge of computers or Internet access to benefit from this marketing option.
· Buyers have free access to listings and contact sellers directly.
· From this point, it's no different than a traditional private treaty sale.
To receive the discount, enter "CattleStats" in the "Discount" field on the listing form, or if you call in the listing information, just tell us you are Cattle Stats customer.